---
Cattle Shows and Sales! It's that time of year again...

At the beginning of the month the ranch exhibited at FarmFair International in Edmonton. We exhibited the Grand Champion Female Harvie OVHF Unique 17Y & her heifer calf at side Lot 1 from our fall sale Unique 32B. Congratulations to our partners Harvey & Beth McKay, OVHF & the heifer calf's owner Majestic Cattle Co. Jimmy Joe Henderson.



Western National Female - Unique 17Y & 32B

On November 9th Jill was in Toronto for the Royal Agricultural Winter Fair where she judged just under 400 4-H'ers in the National Junior Beef Heifer Show Showmanship. There was a fine set of show people and cattle competing which made for an premier show.




At the Royal, Tinley purchased Lot 8 in the Royal Elite Sale from Greyledge Simmentals. She is Greyledge Behave Yourself 2B, later that weekend she was names the National Champion Senior Heifer Calf in the Simmental Show.




The ranch along with RSK farms announced the purchase of herdsire Kanimbla Full Bottle H1117 from Autralia.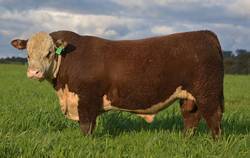 Kanimbla Full Bottle H1117

The ranch and JDF also sold the future herdsire Harvie JDF Splash 108B to Boss Cattle Co and Cottage Lake Livestock, Look for him in Denver!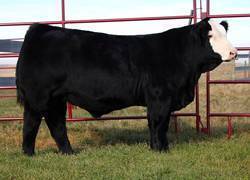 Harvie JDF Splash 108B

In December we are consigning in both Friday Night Lights on December 19th in Olds, Alberta and Red & Black on December 21st in Red Deer, Alberta. Here are our strong consignments.
---
Harvie Ranching Internet Sales Results
On October 11th 2014, the Harvie Ranching Internet Sale Closeout took place on www.liveauctions.tv and at Ian and Marlene's home where the cattle where on display. With over 200 viewers online and full house at the ranch, auctioneer Ryan Doran and liveauctions representative Shari Leachman closed the sale. The high sellers included Lot 25, Harvie Cool Water ET 190B with 1/2 interest selling to the ' Cool Water' syndicate and Dallas Farms for $22,000. The high selling heifer calf was lot 1, who went to Majestic Cattle Co. for $13,000. The high selling bred female was lot 2, who went to Lock Farms Ltd. We would like to thank all the buyers, bidders and friends for your continued support.


Heifer Calves
Yearlings
Bull Calf
Total Live Lots

Embryos

Gross

Sale Averages
$5,590.00
$7,000.00
$22,000.00
$7,266.67

$846.00

Gross
$55,900.00
$42,000.00
$22,000.00
$119,900.00

$42,300.00

$162,200.00


# Lots
10
6
1
17

50

---
Why Do You Have Three Breeds?
August 2014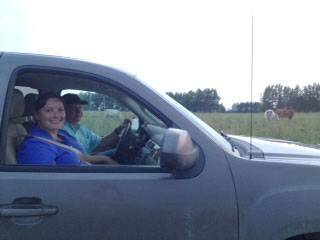 Touring the Charolais herd with Canadian Charolais Association GM, Mel Reekie.

A question often asked over the last few years is "why do you run three breeds?". The question came up again this last month with one of our guests Josh Dowbiggin from Ghyllbeck Hereford Stud in England.
| | |
| --- | --- |
| Josh holding our newborn baby girl Lyla | Josh and Tinley visiting by the show calf pen |
If you ask each individual on this family operation you would likely get various answers. However, it is guaranteed that one of the top reasons we run Polled Herefords, Charolais and Simmentals is due to the desired outcome of diversification. Yes, the administration efforts have increased and juggling breeding pastures can increase costs. Yet, the attributes of each breed is different from one to the next and that continues to drive our bull sales in march every year. Likewise, the female sales for elite show females & embryos has led us to an annual Hereford Internet Sale Oct 9th-11th & consignments to Friday Night Lights, Red & Black with Simmentals.

Focus areas for each breed is standard across all three. We strive to run a functional cow herd...period.

Our Specialties

CHAROLAIS
- Largest number of bulls from one breed on offer in IH bull sale
- Semen & Embryo sales world wide (WW)



Whitecap Laredo our newest herdsire

HEREFORD
- Bulls offer a calving ease cross breeding option commercially
- Foundation & Show Females
- Semen & Embryo sales WW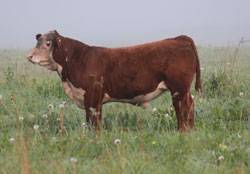 Harvie Cool Water ET 190B our next "Most Influencial Herdsire" ( Semen Packs for sale )

SIMMENTAL
- Emerging market on the bull side
- Female Sales in Canada have been incredibly strong over the last few years
- Semen & Embryo Sales in North America and Australia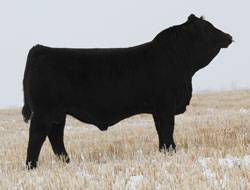 Harvie Boondock 12Z is another Pepsi 61U son who has unreal calves!! Embryos available from this powerful sire.

Pepsi 61U put us on the map! This female has produced countless amounts of champions and record breaking offspring including Wallbanger the sire of Captain Morgan.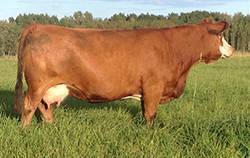 More information coming soon on this next working donor.

Bull Sale Time - Three breeds make for an exciting sale with large crowds and a steady sale from start to finish.



Harvie Ranching Bull Sale

We have had many cattlemen and cattlewomen come to the bull sale for a specific breed and type of bull, over time they have come to appreciate and/or purchase the other breeds on offer after a year or two. We have put our Hereford bulls closest to the barn so that everyone pass that pen to go see the other two breeds. We are proud to showcase a British breed that has as much meat and muscle as the Exotics.

Personally ( Jill's perspective ), I could go on and on about the many general observation attributes of each breed. I don't want to write a book so here are my personal highlights!

Charolais - Hardy cows, less prone to bloating on Alfalfa fields, high performing hairy calves. Phenotypically long sided, deep bodied cattle with ample extension and eye appeal.

Hereford - Excellent feed efficiency, temperament & produce calves with vigour. Phenotypically they are well balanced & structurally sound with longevity and ideal udder quality.

Simmental - High capacity cattle, ample milk supply and ideal mothering ability. High performing calves with impressive length of spine, barrel and eye appeal.

After a long visit with Josh about why we have three breeds, he said you also have a few families who make their livelihood from this ranch, correct? I said yes, so we want cattle that work hard for us to be able to earn a living and do what we do best.

Josh also has a deep interest is Red and Black Angus genetics. We named several successful operations in Canada. He was able to get to a few and plans to visit others upon his return. We visited Miller Wilson Angus, Belvin, Diamond T and Blair's (Hereford division).

On our way back from touring some impressive black and red herds, Josh asked me "Why don't you run other breeds such as Angus, Shorthorns, Limo's ect?". Good question! In my mind each of the breeds has their place in our marketplace. We have three breeds that really work for us. However, I could list off several attributes to other breeds and would consider running them if the right place and time. I always make a point to walk through the other breed stalls at shows. I always find that it is important that we strive towards making cattle great regardless of their hide colour.

So a big thank you to Josh for your extended visit at Harvie Ranching. It is refreshing visiting with such an enthusiastic young breeder!

Stay tuned for monthly blogs...along the cattle trail.

Written by Jill Harvie
---
Brandings, Processing and green grass
06/01/14
The ranch is greening up as we look forward to moving cattle to various pastures. The entire cow herd was AI'd at least once and are now out with the natural sires.

We were fortunate to have friends help with our processing of calves a week ago. We try our very best to return the favour and enjoy the experience of doing so. Hard work and a tasty meal makes for a good time. The family disperses to several brandings this time of year. With a couple new horses in the lineup, we have enjoyed warm days and some great visits during this season.

Photo's taken at the Hagel branding
---
Another Denver in the books, Bull sale season coming up
01/25/14
National Western Stock Show was another enjoyable experience surrounded by friends, family and great cattle. I (Jill) became a board member of the NWSS International Stockman's Education Foundation (ISEF) which hosts the US International Livestock Congress at the Renaissance hotel on the 14th. Through the CYL program, we worked with the Canadian Consulate General to have six Cattlemen's Young Leaders take in the ILC tours to multiple JBS facilities and the ILC conference. We exhibited Herefords on the hill and sold Ms. Unlimited 91A in the Mile High Sale. As lot 35, Ms.Unlimited a T-Bone daughter sold for $13,000 to DaKitch Farms, Matthew D. Kitchell, Mitteness Bros. Johnson Farms, all MN . She has a bright future going to a great home.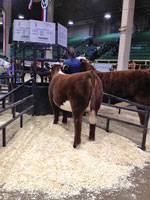 After the long haul to Denver, the cattle rested in nicely and we all worked towards putting the finishing touched on this year's 5th Annual Bull Sale catalogue. Time was of the essence since we have moved the bull sale up a couple weeks to Monday March 10th and so here it is in pdf form, ready to read and enjoy. The bull selection is strong in all three breeds.
CLICK HERE TO DOWNLOAD PDF VERSION
CLICK HERE TO VIEW VIDEOS
And we continue down the trail….
---
The Harvie Family Welcomes You
Harvie Ranching is a family run operation that was established over 35 years ago. The farm is located on the edge of the foothills at Olds, Alberta. Harvie Ranching calves out over 250 purebred Polled Hereford, Charolais and Simmental cows annually. Our operation believes in raising cattle that work in all different kinds of environments around the world but still work for the local commercial breeder. Through the use of artificial insemination and embryo transplant we are able to get outcross genetics into our herd from around the world.

Harvie Ranching holds two cattle sales per year. The bull sale in held at the end of March where we have on offer Polled Hereford, Charolais, and Simmental bulls.

The second Saturday of October is our annual Hereford Production Sale. At this sale we have on offer elite herdsire prospects, show heifers, replacement females, donor cows and exciting embryo opportunities from our top donor cows. Through our website we market semen and embryos year round.

Harvie Ranching genetics can be found all over the world. Our program has produced National Champions in England, Sweden, Ireland, South America, USA, and Australia. We are always searching for that new exciting young herdsire that will change the industry for the better.

Visitors are always welcome to come and have a farm tour of Harvie Ranching. We would be please to show you our farm and breeding program.

Sincerely
The Harvie's
| | | | |
| --- | --- | --- | --- |
| | | | |
| Marlene & Ian | Cole, Jill, & Tinley | Scott, Kerrie & Chick | Will & Taylor |
---
Happy Holidays from the Ranch
12/26/13
Firstly, I would like to wish all of our friends, family and fellow breeders a warm and merry holiday season.

This is a wonderful time to reflect on the 2013 year and look forward to what is in store for 2014.

December has been unusually busy with the Simmental consignments in Friday Night Lights and Red and Black on Alberta's Successful Simmental weekend. Taking in the Charolais weekend in Red Deer and finally attended Majestic's Dispersal on the 21st. We have also moved up our sale to March 10th and so 90 bulls have been clipped to date and picturing will take place this week and next. Let's hope for clear sunny skies!


Christmas celebrations had the family gathering a few different times to celebrate the birth of Christ while enjoying a meal, stories, laughs and some outdoor activities for the kids!

| | |
| --- | --- |
| | |


As we prepare for calving season we have been sorting the cow herd in anticipation for our 2014 arrivals!

Lastly, we very much look forward to Denver in a couple weeks where we will be exhibiting five head of Hereford cattle on the hill. Please drop by the stall for a visit.

---
Lovely future donors on offer in December and January
12/03/13
Harvie Ms Unlimited 91A is a gorgeous T-Bone daughter who won her class at the Canadian Western Agribition. She sells at the Denver Mile High Sale on January 17th 2014. We will post the catalogue once available.
Maternal Sibs sell at Friday Night Lights on December 13th 2013.
Harvie Ms. Just Cause 97A is a 680S x 45x who is complete in her makeup and
ready to make a great to your herd.
Harvie Ms. Just Cause 4Z is a powerful Stubby x 45x bred to Wallbanger!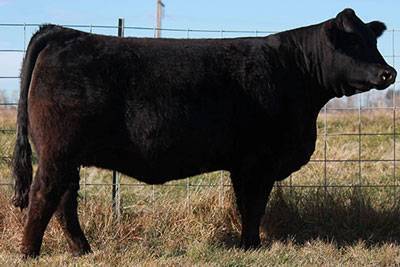 If you have any inquiries on these beauties, please give us a call.

Internet Sale Results
10/14/13
On September 12th at 6 pm MT, the Hereford female sale closed out online via auctioneer at the ranch. We were very happy with the sale results and look forward to hearing how this powerful set of cattle and embryos perform in the near future. Thank you to our buyers, bidders, viewers and friends for your support.
---
Harvie Ranching Internet Sale Oct 9-12, Videos
09/17/13
To view video listing of individual lots click here
New Sale Format this year – Live Auction at the ranch
and online on October 12th @ 6 P.M. MST!
08/30/13
The fall sale season is upon us and this is truly an exciting time of year. Family members scatter all over Canada and the USA to attend sales while others stay home to prepare for our annual Hereford Female Sale day closeout on October 12th.

Cole is headed to the Ontario sales mid month while Ian is heading to the US for a run of sales. As for the offering for the Harvie Ranching 3rd Annual internet sale, we have increased our numbers to include powerful yearlings, cow-calf pairs and embryo lots. The feature lot this year is the Pick of the Cow Herd!

We will have auctioneer Ryan Dorran close out the sale in conjunction with a Liveauctions.tv at 6 p.m. MST at Ian & Marlene's home. Please come by beforehand to view the cattle and enjoy a meal and beverages.

Looking forward to seeing you at the ranch!
---
Summer Highlights on the Show Road!
08/08/13
July was a very successful month on the show road. Cale Toews and Morgan MacIntyre competed in Summer Synergy where Cale was second in class to the Reserve Champion Open Heifer and Morgan Won Champion Open heifer and Reserve Champion female.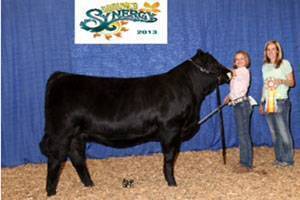 Morgan with Harvie Miss Pepsi 262Z (WallBanger's Full Sister)


After Synergy we all headed to Calgary Stampede where we met up with the "Fluffy cow" crew - Matt Lautner, Curtis Reid and Baylie Cooper from MattLautnercattle.com. Pictured we have Bailey and Tessa Nybo talking about the merits of preparing "fluffy cows" for the Calgary Stampede Steer and Heifer show. This was aired on CBC The National.


Bailey and Cole Giles Steer
Jill and Tessa with their
Fluffy cow wear!

Then off to the Cucks where Simmental Breeder AJ Smith hooked us up with the best spot in the house to see the World Famous Chuck Wagon races. Thanks again AJ

Tracy MacIntyre, Meghan Black and Morgan MacIntyre
catch the Cargill Teams prize at the Wagons. What a blast!


KANSAS CITY NATIONAL JUNIOR HEREFORD SHOW – Harvie T Bone Daughters Impress!

It was exciting to see several Harvie sired or grand sired cattle competing at NJHA Show. Congratulations to Amanda Bacon on winning Bred and Owned Division Champion with a Firefly x Harvie TBone female (pictured below) and another division Champion in the owned show with a TBone daughter. Also, Congratulations to Nature Acres on their Division Championship with a T-Bone daughter.

Cole and Jill joined the Bacon Family to celebrate division champion
with Light em Up a Harvie Firefly daughter.
---
The Cattle Business, a world of opportunity!
06/06/13
We wrapped up May with a large celebration for Ian's 60th birthday party. A house full of friends enjoyed a fantastic meal including Scott's famous prime rib beef & the gals made some fantastic desserts. June holds a lot promise considering we have had ample rain after our crops were seeded. The cattle are all out to grass and the boys are busy taking in brandings.

We had some wonderful news from customers in Tasmania who won Australia's most prestigious Hereford show in Dubbo. Congratulations Nova Poll Herefords on a big win and fabulous price for your bull.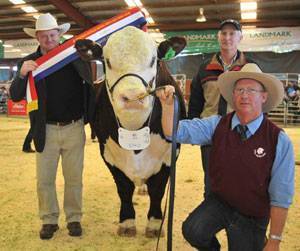 The Dubbo Intermediate Champion, Nova Saffron who is
sired by Harvie Rafstman and sold for $40,000.


It's been a busy month for me at the Canadian Cattlemen's Association where I have been coordinating many projects involving Canada Beef Inc. and the Five Nations Beef Alliance. As Manager of the Cattlemen's Young Leaders program I have the pleasure to work with many of the best and brightest young beef producers in Canada and around the world. This month the Five Nations Beef YouTube Channel is showcasing 10 videos submitted from the various nations in the Alliance. Come July 1st 2013, the nation with the most collective views on their videos will win a trip to the FNBA conference being held in Australia this September. Please view & share at http://www.youtube.com/user/FiveNationsBeef

Also, Jill, Cole and Tinley took part in a commercial along with Redline Livestock's Becky and Joni Page (submitted in the FNBA competition). Please take a look & share!


---
Branding Season is upon us....
16/05/13
As we look forward to a beautiful summer ahead, one can't help but think that May is shaping up to be one stellar month. We have had summer like weather and today a bit of rain to help the grass grow. The entire cow herd was AI'd once and now have been separated to various fields for natural service. We plan to process calves next week and have been busy helping our neighbors and clients with their brandings. Branding season is certainly a high priority on the ranch since we get to visit friends, practice roping and see the progeny from bulls purchased from our sale the year prior. This can also be a fantastic family activity. Cole and Tinley are pictured at Mic's for Tinley's first branding. We had a wonderful day.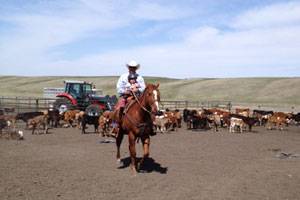 Cole and Tinley
---
There's a new cowboy in town!
22/04/13
Last month, Scott & Kerrie welcomed a baby boy named Chick Bennett Harvie
on March 6th 2013 . He is growing well and seems to have some red hair
coming in which is a sign that he will be a busy boy no doubt!
Chick and Mom and Dad
Chicks Baby Shower with Mom and Dad,
Grand Mothers and Great Grandmother Jean
On the ranch we have begun delivering bulls after a successful sale on March 25th. To see results view the sales page. With 200 guests in hand we couldn't ask for a better day for a sale. We thank our buyers, bidders and friends for the support.

We are also gearing up for the Olds Spring Heifer show this weekend! With a Charolais Heifer and two Simmentals we look forward to a great show with friends and family.
| | | |
| --- | --- | --- |
| | | |
| The heifers in the new show barn | Olds Spring Heifer Show | Olds Spring Heifer Show |
---
Cattle Drive & Calving Highlights
02/26/13
The Cattle Drive

The annual cattle drive is a strong family tradition at the ranch. Friends and family look forward to the 3.5 mile down the Bergen Rd for the cow herd to venture their way over to Cole and Jill's ranch for the 2013 calving season.
Calving on the go

We now have 170 calves on the ground and certainly enjoy having the new calving facility on chilly days. The sires continue to prove themselves and we are very pleased with the udder quality on our two year old females. As we prepare for the 4th Annual Bull Sale on Monday March 25th, we hope that calving is wrapped up by then and warm weather welcomes our guests to the ranch for bull sale day.



---


Calving/Show Barn and Denver in the yards & on the hill!
01/24/13
The Denver cattle are on route back to chilly Alberta. The yards were very worthwhile this year as all three bulls ( Charolais – Shake Me Down, Hereford – All In and Simmental – Boondock) made many friends. Harvie Boondock 12Z was shown in the Purebred Simmental show and was Reserve Sr. Bull Calf Champion. Our calving barn is coming along slowly, but as you can see the end is coming soon! I especially look forward to getting it set up as a multipurpose show barn come summer time.

Harvie Boondock 12Z NWSS Res Sr. Champion Bull Calf
The Yards Display Bulls….

The new Calving/Show Barn – after many years of calving 300 plus cows we have more than a 4 stall barn. We now have room for at least 15 to 20 cows if needed. It's time for the baby calves to arrive.
And they are off to Denver. A new approach in the yards!
01/10/13
Happy New Year! Today, Scott and fellow Simmental breeder Garrett Biggelaar headed south to Denver with our string of bulls. We are very excited to try something new this year by having a bull from each of the breeds we raise on display in the Bull Alley at the yards at the National Western Stock Show. Ehlke Herefords will be exhibiting Harvie Firefly 19Z, the top selling heifer from our internet sale this fall who she was second in class at Agribition (Drop by the hill for a look at this beauty). If in the yards, please drop by for a visit at the Harvie Ranching stall and have a look at these suitable sires. If interested in Semen, please give us a call anytime to discuss further.
Here they are….
All the best with calving and for those exhibiting best of luck in the show ring!
---
From Judging to Fitting to Showing Cattle…It doesn't get better than this!
05-12--12
The November blog is a pleasure to compose. It has some tidbits from October and some great news from November. I can honestly say that this month is my favorite of all the months in the year. First of all, three major shows take place in Canada. The Royal in Toronto, Farmfair in Edmonton, AB and Agribiton in Regina, Sk. I get to spend most of the month around all the things I love the most: Family, Friends & Cattle. I also celebrate my birthday during Agribition every year. This year Harvie Ranching had strings at FarmFair and Agribition. All in all we have had a great run this fall, since the Olds Fall Classic results…let me fill you in.
From Judging….
Cole and I were very humbled to be asked to judge the Metcalf Fair and Eastern Ontario Regional Steer & Heifer Show at the beginning on October. We spent two days evaluating a great set of cattle and connecting with new and old friends. Adjudicating the steer show was especially fulfilling since that show was the highlight of my year over the course of my 4-H years showing/selling steers. I enjoyed seeing faces from the past that enriched my show career and I was impressed with the quality of steers presented. My late Uncle Harold was my 4-H leader years ago and I couldn't help but think that he was looking down that day, proud of his niece & her husband judging this remarkable show. The Champion Steer sold for $5.00/lb
| | |
| --- | --- |
| | |
| Jill showing one of her back to back Champion Steers | Jill & Cole on Sale night |
Will Harvie had the pleasure of judging the Youth Open Heifer Show at FarmFair International. Will enjoyed seeing the tremendous set of cattle shown by youth. The Champion Female went to Meghan Mcleod from Balzac Alberta showing a beautiful Charolais pair.
To Fitting….
Quite possibly the most nerve wracking part of showing cattle. Reason being that it's all on the crew to make the cattle look their very best before show time. Once the cattle go in the ring it's out of the crews hands and up to the judge as to whether that animal appeals to them or not. The crew did a superb job!
Getting 70Z ready
She sells at Friday Night Lights next week
Taken by Kerrie H
To Showing….
Success in the ring comes along with a little bit of luck combined with the correct breeding decisions, management and animal preparation. This year the ring was very good to us and our string of cattle were a pleasure to present. We had a little fun while we were at it!
"Unique" Agribition & Olds Fall Classic
Champion Polled Female

CWA Grand Champion Female & RBC Top Ten
Harvie Ms. Unique 80W
& 152Z at side
,
Cow Co-Owned with Anita Doktor and
calf owned by OVHF Sk & Six South Acres

Anita Doktor drinking from the Neil Wilson Memorial Cup
" Boondock" FarmFair International, Olds Fall Classic Champion Simmental Bull,
Legends of the Fall and Olds Jackpot Champion All Breeds
The "Pepsi's"
Our Simmental string all had two things in common this year. They were black or black blaze and all had the same dam Pepsi. With several class winners and divisions, we were very proud of Boondock and the ladies…here are a couple highlights.
22Z wins her class at CWA
Pepsi 8Z
Olds Fall Classic Heifer Calf Champion
Pepsi 22Z – FarmFair Res Intermediate Champion Female & Reserve All Breeds Jackpot Olds Fall Classic

Written by Jill Harvie
---
Harvie Ranching 2nd Annual Internet Sale Results & Olds Fall Classic Show Results
10-23-12
October has been jam packed with an open house, a show and a few sales. The snow is flying here today so working on show cattle gets a bit more difficult but their hair sure grows in this weather! Scott & Kerrie are in Sk attending sales and visiting breeders, we are excited to bring home our purchases at Square D Polled Herefords Lot 17 co-owned with North Bluff and Lot 46 from Roselawn Polled Herefords.
| | |
| --- | --- |
| | |
| Tinley's first "real" experience with snow. | Show Females wondering what this white stuff is? |
Firstly, we would like to thank our buyers, bidders and viewers for your support during our 2nd Annual Internet Sale on liveauctions.tv. The sale averaged $5300 and these lots found themselves in progressive herds across Canada and the USA. To view sales results click here.

Thank you to our 2012 Buyers
Lot 1 CVIH 125Y
Lot 2 CVIH 57Y
Lot 3 CVIH 168Z
Lot 4 CVIH 152Z
Lot 5 CVIH 19z
Lot 6 CVIH 3Z
Lot 7 CVIH 126Z
Lot 8 CVIH 65Z
Lot 9 CVIH 142Z
Lot 10 CVIH 103Z
Lot 11 CVIH 129Z
Lot 12 CVIH 86Z
Lot 13 Pick of the Bull
Prairie West Cattle
JW Schmidt & Sons
Pelton P Herefords
OVHF SK & Six South Acres
Iron Lake Ranch & Ehlke Herefords
Medonte Highlands
AXA Farms
Tod & Sandra Brancel
Chittick family Hereford
Stewart G Crone
Ehlke Herefords
AXA Farms & Dorbay Polled Herefords
Square D Herefords, Harvey Duke, Mannle Herefords
Olds Fall Classic Show Results
The Simmental show saw increased numbers this year and once again great quality. Our string of six, are all maternal siblings off of JDF Pepsi 61U!
Full Sibling Bull Calf Results:
Grand Champion Bull & Bull Calf Champion & ALL BREEDS "Stars of the Future" CHAMPION BULL – Harvie Boondock 12Z & Reserve Bull Calf Champion with Harvie Bullseye 2Z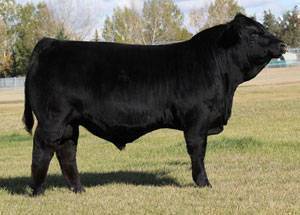 Harvie Boondock 12Z

Maternal Sibling Heifer Calves:
The JDF Pepsi offspring make our string this year. She had three full sib heifer calves in the heifer calf championship with Harvie Ms Pepsi 8Z winning Champion Heifer Calf ( Pepsi x enticer). She Sells @ Friday Night Lights! Picture on www.grantspix.com , show cattle, picture 0368.

Also maternal sibling, Harvie JDF Pepsi 22Z ( Pepsi x Stubby ) won Reserve Champion Female in the All Breeds. Congrats to our co-owners Jaydawn Farms. She sells at Friday Night Lights!!

The Hereford show was a bit smaller this year but the quality was deep. Harvie OVHF Unique 80W ( Raftsman daughter) & 152Z at side won Champion Female & now qualifies for Supreme at FarmFair & Agribition. Harvie High Roller ET 66X was Reserve Champion Bull and can be view at www.grantspix.com. Congratulations to our partners Anita Doktor, OVHF & Six South Acres on the pair and to Chittick Herefords & Oak Down Poll Herefords on the Bull win.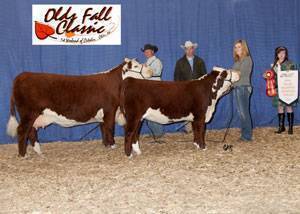 Harvie OVHF Ms. Unique 80W & 152Z at side

Best of luck to our friends selling cattle this fall. The sales have been great and we look forward to seeing the offspring on our Ontario purchases from Medonte Highlands & River Valley as well as the Traveler 69T yearling purchased from AXA Polled Herefords from the Maritimes.

Congratulations to Howard Hawkwood for your Champion pen of 10 steers at Balog Auctions !
---

Sale Catalogue online now!
09-04-12
As we wrap up the summer and head into fall, we have been working hard on our sale offering for the Harvie Ranching Online Sale October 12-16 2012, 6 pm MST. We are offering the pick of our 2012 bulls, 2 fabulous yearlings and a handfull of our top heifer calves.

We will be hosting an open house, check out the details in our welcome section of the catalogue. We look forward to seeing you or visiting over the phone.


---

World Hereford Congress A Great Success!
07-24-12
We have had an exciting month visiting fellow Hereford breeders from near and far. The ranch saw over 150 visitors from several nations due to the success of the World Hereford Congress event held in Olds Alberta last week. The Harvie Ranching string had seven class winners and seven progeny win divisions from the following sires; Harvie Tailor Made, Harvie Traveler & Harvie Raftsman. The World Reserve Champion Female exhibited by WLB was sired by Harvie Traveler 69T. Congratulations to all the Juniors exhibiting Harvie Ranching Cattle at the Bonanza WHC. Cody Lafrentz won Reserve Junior Champion Female with Harvie Ms. Firefly 33Y. Riley Lafrentz won Intermediate Champion Showman. Shallaine Daley won Intermediate Reserve Champion Showman and Jane'a Ehlke won Reserve Senior Champion Showman & won her class with Harvie Ms. Firefly 125Y.

The Harvie Ranching Foundation Female Embryo Sale had tremendous interest with bidders from over 10 nations. The sale of 42 embryo's averaged $725.00
High Selling Lots - Harvie Ranching Foundation Female Embryo Sale
Harvie Ms Firefly 51F/
Otapawa Skymate 2046(ET)
3 embryos
$1,050.00
Ehlke Herefords
RSK Herefords
Townsend, MT
Brandon, MB
US
CA

Harvie Ms Firefly 51F/
Otapawa Skymate 2046(ET)
2 embryos
$1,050.00
William McMordie<
Solpoll Herefords, NIR
UK
Harvie Ms Gwen 177T/
Harvie High Roller ET 66X
3 embryos
$1,150.00
George Morgan
Abergele, Wales
UK
Harvie Ms Gwen 177T/
Harvie High Roller ET 66X
3 embryos
$1,100.00
Cloverlee P Herefords
Ken Ikin
AU
Calgary Stampede Reserve Champion Carcass Steer – Sired by Harvie Tailor Made can be viewed on this video that played on CTV during the Calgary Stampede. Jill Harvie was featured as a young mother/rancher from the Calgary area.



---
Our travel down under!
06-07-12
We couldn't have imagined a better way to start our Australia trip other than meeting the Conte family. The Conte's have acquired the semen rights to Harvie Jager and Harvie Redemption. It was great their offspring & ET progeny. They welcomed us into their home and served up some tasty Italian food. Check out the picture of Scott tossing pizza dough!
| | | |
| --- | --- | --- |
| | | |
| Conte's with Scott looking at the Charolais herd near Tatong, Victoria. | Kerrie receiving personal cooking lessons on making the best pizza! | Scott tossing pizza dough, very talented! |
After dragging Scott out of Conte's (he didn't want to leave the great cooking), we headed up to the National Hereford Show in Wodonga. It was a great experience seeing so many breeders bring their animals to town. It reminded us very much of the Annual Calgary Bull Sale.
The next leg of our trip took us up to the 2012 Beef Expo. This event is held in Rockhampton, Queensland and is one of the most exciting shows in Australia since it only taking place once every three years. Since Scott was there in 2006, the cattle numbers have increased significantly making it an even better show. Our good friends Tom Wilding-Davies and Stuart Hobbs had Supreme Interbreed Female Red Angus pair, congratulations!
DSK Charolais and Angus, herdsman Lonnie put up his dread locks for auction, raising money for cancer. What a great experience, the Charolais family came together together to raise money for the cause.
It was great that Scott finally met Anton Volker, Kerrie's Aussie brother. Anton and Alice raise purebred Simmental and Shorthorn up in Texas, Queensland. We were so happy that we had some time to spend with them, taking in the Aussie life. We celebrated Anton's 40th birthday and went on an evening excursion to view kangaroo, deer and wallaroo as well!
Anton, Sebastion, Charlotte and Scott hanging by the fire

Kids & Kerrie being silly
The Show
We jumped on a plane and headed south to visit Katelin & Ben Davies. It was wonderful to spend time with them and see their new home. We did some wine tasting and toured cattle. We managed to stop in to see Alister Day, who holds the Australian semen rights to Harvie Tailor Made. We continued on a Hereford tour, we made it over to Andrew Schwartz, Oakdown Herefords. It was lovely to finally meet Andrew as he recently purchased the Australian semen rights to Harvie High Roller. We are extremely excited to see how High Roller will perform in Andrew's fantastic herd.
Fabulous rack's of lamb served up at the Davies home!
Last but not least, we were able to spend time with Scott's good friends Todd & Alex Clements & family. Todd runs Bowyer & Livermore in Bathurst, NSW. In the midst of settling in with them for a few days, we were able to visit Rosedale Charolais. Their herd was fantastic and we are pleased to announce that they have purchased the Australia semen rights to Harvie Trigger.
| | |
| --- | --- |
| | |
| Kerrie checking out the sheep sale | Scott shearing a sheep, he did great! |
Our four week trip was one we will cherish forever and we hope to meet friends made along the way again soon. It is very exciting that some of these friends will be joining us for the 2012 World Hereford Conference , in our home province this July 16th-18th.
Scott & Kerrie Harvie
---
Artificial Insemination is FULL ON &
check out this Flush Opportunity!
27-04-12
Another busy season is upon us. We began breeding on April 16th so that we can have calves arriving in later January – early February 2013. We synchronized our yearling heifers of all three breeds so we could have them calve around the same time before the majority of the cow herd. Cole will AI (Artificially Inseminating) approximately 180 cows and will begin segregating females with our natural sires on May 15th when the grass is finally green.
While working on breeding we are currently flushing 16 Donor females and plan to implant over 100 embryos. We also plan to offer several Hereford Donor embryos at the upcoming World Hereford Conference to be held from July 15th - 18th in our home town of Olds. Embryos selling on our top cow families will include ; "Firefly's" "Nylon" "Unique" "Gwen" "Ronda".
We are currently offering a flush opportunity on Harvie OVHF Unique 80W
2011 High Selling Hereford Female in Canada. Call for more details.

Yearling heifers rounded up to sort out
females ready for breeding
Cole Breeding MRL Miss 586Y
Cole is AI'ing this Simmental yearling heifer to our new herdsire KOPP FINAL DRIVE 33Y co-owned with Virginia Ranch purchased from Kopp's Spring Bull Sale. Once Harry & Michelle are finished using him we will be running him naturally on most of our Simmental yearling heifers. We have some power packed natural herd sires this year. As for our black females we are using Harvie Lucky Seven 167Y a Pepsi 61U son!
Using horses to move
cattle this time of year
due to MUD!

Time for a rest, the horses
love being ridden often
this time of year.
A 2012 Stubby x Pepsi 61U
Simmental heifer calf -
we are preparing
for another great crop
of calves in 2013!
Stay tuned for future posts along the cattle trail...
---

3rd Annual Bull Sale Snapshots
12-04-12
On March 26th our 3rd Annual Bull Sale was the most successful Bull sale to date, averaging just over $5200. We hosted a large crowd despite the weather forecast. Many enjoyed the quality of Hereford, Charolais and Simmental Bulls & feasted on some tasty Beef. We now look forward to delivering bulls & enjoying a visit with our customers. Thank you to our friends, family, bidders and buyers for their continued support.
| | |
| --- | --- |
| | |
| Beef | Charolais Bulls Sell |
| | |
| Crowd | Looking at Bulls |
| | |
| Sale Ring | Trucks - Parked |
For more details on sales result click on the 'cattle sales' tab.
---
Traveler 69T becomes the top Polled Hereford Trait Leader
07-03-12
We are very proud to see Harvie Traveler 69T become the top Polled Hereford bull for total maternal trait leader. He has five EPD's in the top 1 % of the breed in the following categories; WW 72.8, YW 111.7, Milk 32.7, Tot Mat 69.1, MPI 193.2.
Traveler 69T
Some of other Harvie Hereford Sires in the top 20% of Trait Leaders include; Harvie Ladies Man 4L, Harvie Tailor Made ET 7W, Harvie Dan T-Bone.
EPD's are one of the many tools we use in selecting cattle. Here are just some of the many Traveler 69T offspring turning heads.
Harvie Tailor Made

Harvie High Roller 66X
2012 NWSS Jr. Champion Bull
Harvie Miss Ronda 41W
Res. Champion Female Olds Fall Classic
Harvie Miss Firefly 20X
Jr.Champion Female Farmfair 2011
OVHF 69T Wildfire 10W
2010 First Lady Classic Breed Champion
---
It's time to place my bet...breeding decision time
24-01-12
This week we scattered female pedigrees across the office table for easy viewing. It's time to make important breeding decisions. I can't help but compare this experience to sitting at a poker table and placing my bet.
Except, I rely solely on luck when I gamble. Of course, we all know that breeding decisions take careful evaluation of information such as; blood lines, epd's, birth weights, phenotype, marketability and so on.
It sure makes it easier to have a proven bull as a barometer of what the calves will prove to look like next year.
This season we are expecting Hereford calves by Harvie Tailor Made ET 7W, Harvie Traveler 69T, TH 122 711 Victor 719T, JDH 10S Yankee 39X, Otapawa Skymate 2046, Harvie DAN Ricochet 167U, Harvie DAN T-Bone 196T, Harvie Thriller 67X.
On the Simmental side we expect calves by; Wellington, Stubby, Enticer, Buckeye & Harvie JDF WallBanger 111X.
On the Charolais side we expect calves by; Vinaza 815U , Fire 85U, Spawn 765W, Harvie Pounder 91X, Harvie Redemption 36P and Harvie Stout 124X
HEREFORDS
I'm going to place my bet on High Roller 66X & let it ride.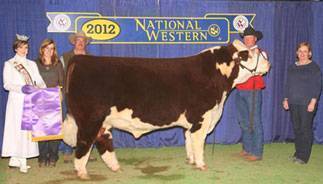 High Roller 66X left his mark in Denver again this year with his most impressive accomplishment yet, winning 2012 NWSS Jr. Champion Bull. Additional banners include; CWA 2010 Bull Calf Champion, NWSS 2011 Res. Bull Calf Champion & FarmFair 2011 Reserve Champion Bull.

The judge commented on his overall thickness, depth of rib, completeness in his make up and powerful side profile. He appreciated how this bull sets down his back leg and gets out and moves. 
We expect quite a few more High Roller calves any day now & co-owner's Chittick Herefords have a dozen great calves on the ground that they are very pleased with. Most recently we sold the Australian semen right on High Roller 66X to Oak Downs Poll Hereford, Bordertown, South Australia.
Semen- $40/dose

---
SIMMENTALS
Erixon Wellington 133W is like getting a flush draw!


We purchased Wellington with Deeg Simmentals in Erixon's 2010 Bull Sale. He was the high seller at $15,000. With one calf crop season under his belt we are very pleased with how he stamped his calves. They are eye appealing, dark red and well balanced.
2012 Wellington 133W calf & bull sale feature

Harvie Wellington 63Y
( Wellington + Top Gun)

Harvie Chumlee 286Y


( Wellington+ HF Remington )
Semen - $50/dose
---
CHAROLAIS
Win Man Vinaza 765U is like pulling an ace on the river when you're all in!


Vinaza adds calving easy, performance, muscle and piles of hair to his calves. We are expecting quite a few calves by Vinaza this year but we haven't had any yet.
Here are a couple Vinaza sale features in our March 26th Bull Sale.

Harvie Vinaza 75Y
(Vinaza x Trigger)  

HarvieVinaza 69Y
(Vinaza x Challenger)
Harvie Red Vinaza 48Y
(Vinaza x High Times)
New semen price - $30/dose

I guess you could say there's no gambling here, these are sure fire breeding tools. It is exciting to have these bulls walk our pastures.  If you would like to see them in person, please drop by for a tour and/or join us on Monday March 26th for the annual Harvie Ranching Bull Sale.
---
A great time of year...Denver & Calving
 08-01-12
Happy New Year!

What a great time of year. The weather in our area has been magnificent for the last month. This weather is ideal considering we have been busy preparing for calving and the National Western Stock Show.

In early December we had our annual cattle drive where a few cowboys and cowgirls jump on their favourite horses to bring the pregnant females home for the calving season. This is always fun time but this year was very chilly, as you can imagine we were glad to see the home yard come into sight!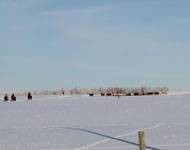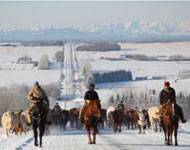 A Year's worth of planning and hard work will now come to light as our females begin delivering their calves. The first round of ET(Embryo Transplant) calves are hitting the ground as well as the Simmentals. Traditionally we calve our Simmentals a bit earlier than the two other breeds but this year we are also expecting early Hereford calves in preparation for the World Hereford Congress (www. Hereford.ca ) to be held in Olds this July.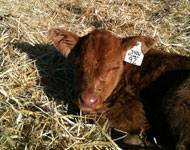 Denver time! We selected five head to exhibit in Denver this year. Denver has been good to us in the past....2011 – Reserve Sr. Bull Calf Champion, 2010 – Reserve Sr.Champion Bull, 2009- Reserve Jr. Champion Bull..... keep posted for results in a week's time. Please drop by the stall for a visit! Stay tuned for future posts along the cattle trail...Thank you to our shavings sponsor ABM "Simply The Best"


Written by Jill Harvie

---

A Winter Wonderland Wedding
15-12-11
On December 10th, second oldest son Scott Harvie married Kerrie Bennett an agronomist from Calgary Alberta. Scott & Kerrie Harvie ordered good weather from mother nature for their wedding day, and to their delight ended up with a gorgeous winter day of above normal temperature. Kerrie's cousin Heather, a florist and wedding decor designer "made it snow" with all her little helpers in the Olds Alumni Center - it was breath taking! The day was filled with precious moments with friends and family.


Scott & Kerrie live on the west farm where they plan to start a family and build a loving life together for many years to come. Congratulations! For more pictures go to www.ruralroutecreations.com.

Written by Jill Harvie

---

It's all in the name "Shake me down"
01-12-11
Hosting visitors is always an enjoyable day at the ranch. During a tour, it is extremely rewarding to
hear which animal catches a fellow breeders' eye. Not only is it important that a calf catches their
attention but that this animal lives up to it's name. Well, this year the calf turning heads in the pasture is
Harvie Shake Me Down 98Y. This white bull walks like a cat, he is super cool fronted and has an explosion of natural muscling. He certainly stands out...because he is incredibly smooth.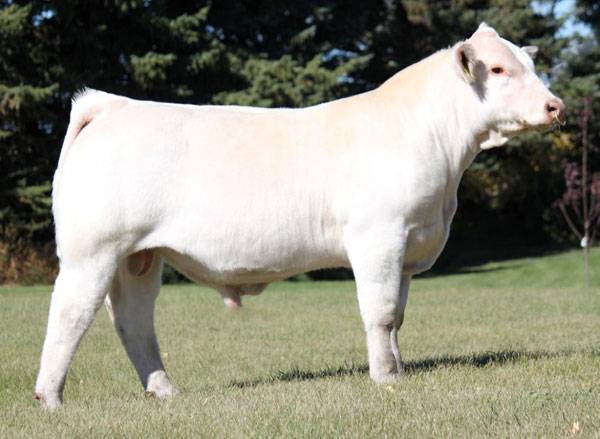 We have big plans for this calf, he will be our 2012 Charolais herdsire. His sire is Pleasant Dawn Spawn 765W (2010 National Reserve Jr. Champion Bull) & dam Harvie Miss Anastasia 2S (daughter of the 2003 National Champion Female).


Written by Jill Harvie

---

Hitting the show road
14-11-11
It's that time of year again! Excitement builds as we prepare our strings for the show road. This year we decided to head back to FarmFair International in Edmonton Alberta (Nov 6-12) after being away from the show for a few years. To our delight the show was very worthwhile. We had a chance to visit with fellow breeders of all breeds and connect with friends and neighbours visiting the show and CFR ( Canadian Finals Rodeo ). To cap it all off, we won a new blower in the Jr. Simmental draw!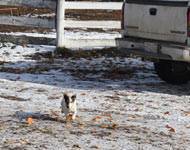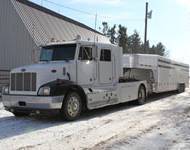 Jack the Supervisor
Mini Pete
Lots of hay to eat and
straw for comfort
Our new mini Pete being put to work for it' 1st show season!

We brought a small string of Herefords and a couple Simmentals. In the Hereford show ( Polled & Horned showed together) we came away with the following; Heifer Calf Champion, Junior Champion female, Reserve Champion Female, Reserve Champion Bull & Champion Breeders Herd. In the National Simmental show our two bull calves had a respectable second & third behind the reserve bull calf champion. In the legends of the fall we had mixed breeds Reserve Champion Bull & Female. Pictures can be found on www.grantspixs.com . Now it's time to concentrate on the Agribition show string (14 head), as we make the trip to Regina Saskatchewan. After that we plan to head to Denver in January. Perhaps we will see you on the show road!
Written by Jill Harvie

---
The cattle business, isn't it a small world?
3-11-11
At the beginning of September, Ian and Marlene traveled to Europe. Ian was asked to judge the National Polled Hereford show in Moreton-in-Marsh, England. Their trip continued through Denmark and Germany. They enjoyed many great meals and cattle tours but one event stood out while visiting Heike & Jens Reimer Hereford farm/Bed and Breakfast in Brodersby, Germany (to visit click here www.gut-royum.de urlaub@gut-royum.de). While walking through their home, Ian was surprised to see a familiar image on the wall. It was a sketch created by Tina (Heike & Jens daughter) many years ago. She was inspired by a CHA note card of a cowboy, baby calf and his horse. In 98' the CHA asked Ian to be a model and commissioned Dawn Dickinson to draw him, his horse and a baby calf. Ian was thrilled to see the picture on their wall and they invited him to sign the back when they found out he was the model.
Written by Jill Harvie

---
Hats off to a great pal  
23-10-11
When working cattle on the prairies there are some essential partners needed to make everyday tasks that much more enjoyable and productive. Every day Harry (German Long Haired Pointer – hunting dog), Tank (Border Collie-working dog) and Jack ( Jack Russell-keep my wife happy dog) happily greet us looking for breakfast and a full day's work. Jack jumps in the front seat on the feed truck to keep an eye on all the action while Tank enjoys the breeze in the truck bed ready to move cattle when he hears his signal called 'away'.  A couple of months ago a new addition called Pete  (Border Collie) joined the team and we hope he will be as good or better than his sire (Tank) at working cattle. Pete even made an appearance at Olds Fall Classic this fall and was a favourite amongst the juniors at the show!
Harry the hunting dog stays in the yard greeting visitors, laying around and most importantly roaming the perimeter of the ranch protecting the Jack Russell (who likes to get in trouble) and in the winter ensuring the coyotes and other predators are kept away from new calves. No matter how chilly outside during calving night checks, Harry is a couple feet behind us. Ian, Will, Cole & Scott enjoy pheasant hunting at a club nearby and that's where Harry works his magic. He is extremely talented when it comes to pointing out where the birds lay and land. He is an essential part of Scott's annual southern Alberta and the Dakota's hunting trip with the boys.  Harry was getting on in age and passed a couple weeks ago, he will be missed but mostly remembered as one fantastic dog with many talents. So hats off to our pal Harry.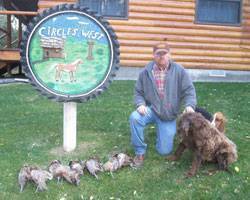 Stay tuned for future posts along the cattle trail...
Written by Jill Harvie
Archives Posts